Last Updated on July 11, 2022 by Ria Pathak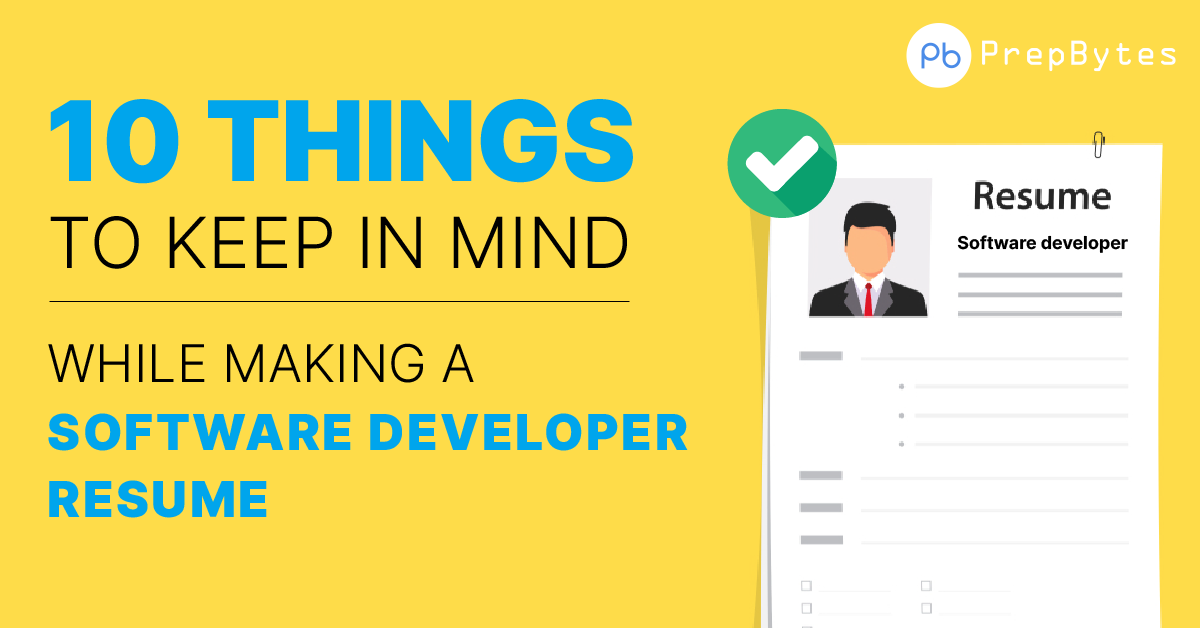 Are you starting on a job hunt as a software developer? Or do you want to stand out among your college mates in campus interviews? No matter which is the case a software developer must have a great resume to attract the recruiter towards your profile. Did you know about 70% of the resumes that are sent are not well structured and hence are already rejected by the recruiter or their automated system?
Do not worry, in this article I will take you through how to build an excellent resume for your next Job and land you an opportunity to be interviewed at your dream companies.
Well let's start with the basics, a resume should be short, concise and easy to comprehend.
Tips
Use the same font and even colours in the resume.
Try to wrap it up by 1 page and maximum 2 pages, as the recruiter has to look for 100s of such applications and obviously do not have time to go through each and every part.
Use sections, for dividing your works, achievements, experience and skill sets.
Make sure you do not overweight your resume with all the projects you have done, choose only a few which have greater divergence among your projects, those projects which cover a large set of skills.
Try to include your work which has a definitive impact on others. You may write "developed a microservice to support transactions more securely and scale it to 10X", try including numbers as numbers are always more persuasive than just words.
Try including skills as popular words and along with how strong you are in that skill. Possibly a percentage bar or anything that denotes your hold over your skills.
Always maintain the file as PDF, as it is the best way to share and most systems recognise only pdfs.
You should also add your online presence or works possibly can be competitive programming handles, hackathon ideas, GitHub portfolios etc.
Consistency in font size and sectional divisions with proper labels are a must as these are the first thing any automatic systems look for.
Do also add your academic achievements in brief along with achievements in any contests, open source contribution etc.
Things which should not be done –
Do not include everything that you have come up with like starting from school. A simple concise important designation is enough.
Do not try to exaggerate in your resume, this is the most important thing most people do. Well, if you do then keep in mind that during the interviews you might be grilled on all the topics which are written in your resume and then If you are not able to answer then it might be set back to your opportunity.
Do not list any buzz word before having proper knowledge about it.
Do not list irrelevant skills, like Ms word, computer applications, you are applying for a role of software developer, you are expected to have a basic knowledge about these.
Do not go very deep to make your projects look good. You do not have to explain every bit of your project on the resume. You can simply do that during the interview.
Some personal advices –
If you are a recent graduate, then try to include your positions and previous companies along with may be college and your performance there. Surely, the name of the college would not matter in front of skills, but it does represent your work ethics, ability to learn, capabilities to perform. Also, if you are from a different stream than computer science or IT, do also mention your certifications may be Coursera, Udacity, Udemy anything that can vouch for your skills.
Hope this gives you an idea to build on point resumes and to get an interview call from your dream companies.If you want to practice interview questions for placements, visit Prepbytes Interview Questions.