Last Updated on February 20, 2023 by Prepbytes
For an individual, the primary goal after completing graduation is to get placed in a decent form that can give him proper work-life balance, growth, a decent salary, and some other benefits. That's where Infosys come to light as it is one of the largest IT firms in India this company has also a great global reputation and because of this reason it is the preference of many candidates and the company hires for many positions.
About Infosys
Infosys is a consulting company and global technology based in Bangalore, India. Infosys is one of the largest information technology companies in India and has a presence in over 50 countries around the world. The company provides a wide range of services, including digital transformation, technology consulting, software engineering, and business process outsourcing.
Infosys is well known for its innovative solutions and services in the technology industry. The company has a strong focus on digital transformation and has helped many organizations move their operations to the digital world. Infosys offers services in areas such as cloud computing, artificial intelligence, machine learning, and big data analytics. This allows organizations to modernize their infrastructure, improve their operational efficiency, and stay ahead of the competition.
Infosys also provides technology consulting services, helping organizations determine their technology needs and implement the right solutions. The company's expertise in various technologies and industries allows it to provide tailored solutions to meet the specific needs of each client. Infosys has a strong focus on innovation and continuously invests in research and development to create new technologies and services.
In addition to technology and consulting services, Infosys provides software engineering services, including software development, testing, and maintenance. The company has a large team of experienced software engineers who use their technical skills to create high-quality software solutions for clients. Infosys also provides business process outsourcing services, allowing organizations to outsource their non-core business functions to the company, freeing up resources and allowing them to focus on their core business.
Infosys has a strong reputation for its corporate culture and commitment to its employees. The company has a diverse and inclusive workplace and has received numerous awards for its human resource management practices. Infosys is strongly committed to sustainability and has implemented various initiatives to reduce its carbon footprint and support environmental conservation efforts.
Eligibility Criteria for Infosys
In this section, we will discuss the various eligibility criteria for giving the test of Infosys. Before moving to the registration process of Infosys you must have an idea about the eligibility criteria.
Educational Qualifications: Students pursuing any type of engineering degree are allowed whether they are pursuing a bachelor's degree or master's degree but non – engineering students are not allowed.
Percentage Criteria: The student must have 60% above in class Xth and XIIth and 65% in graduation.
Nationality: Only the students that belong to India are eligible to give the InfyTQ test.
Age Restriction: There is no age restriction for giving the InfyTQ test but the student must be passed in the same year in which he is applying for the test.
Steps for Infosys Registration Process
In this section, we will see how to apply in Infosys or about the Infosys registration process.
Step 1: First go to the official site of Infosys.
The site will look like the above image then click on the register button.
Step 2: Register yourself using Facebook or Gmail
After completing step 1 you will redirect to this slide. To complete the Infosys registration process you have to follow each step carefully.
Fill out the form correctly and properly if you filling it in for the first time or if you have already registered then direct can move forward by logging in.
Step 3: Verify your Email
Now after completing step 2 this screen will be visible to you.
You have to verify your email id by clicking on the link sent on the registered email id that you have filled in the previous step.
Step 4: Agree to the Terms and Conditions
After confirming your email address you will be redirected to this page that is shown below: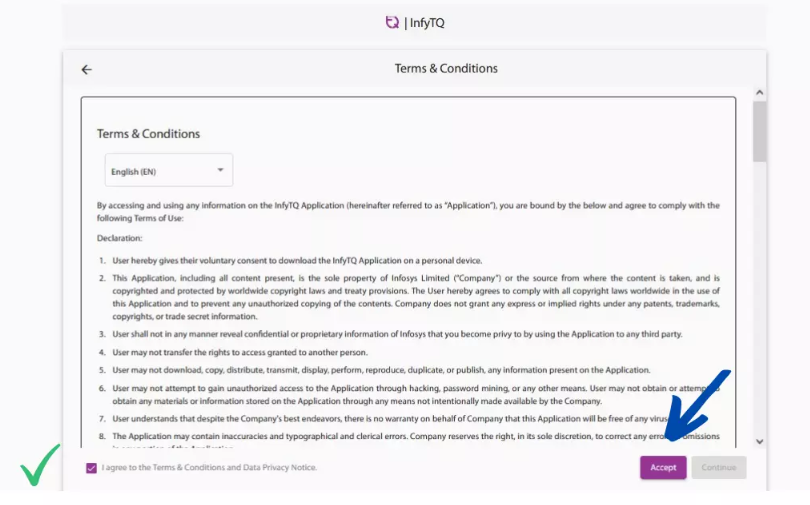 Read all the instructions carefully and after that click the checkbox. And click on accept.
Step 5: Enter the Required Information
After accepting the terms and conditions you will be redirected to the page where you have to fill in the information as shown below:
Now, fill in the information as asked above carefully and correctly.
Step 6: Submit the Form
After filling in the details in the above form now you have to submit the form.
Now click on the submit button.
Step 7: Click on "Program"
After submitting all the details you will be redirected to the screen shown below:
Now click on the program's options shown in the image.
Step 8: Click on Infosys Certification.
After clicking on programs the droplist will appear as shown below:
From this drop, the list clicks on click on the option of Infosys Certification.
Step 9: Click on the Register Now Button
Step 8 will redirect you to the page as shown below:
Now read the exam process carefully and then click on Register Now.
Step 10: Update your Profile Again
After clicking on Register Now the site will be reloaded and will redirect you to the page shown below: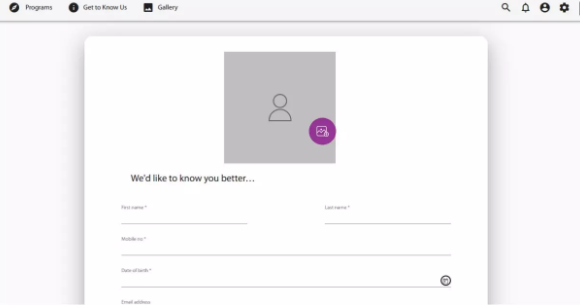 Now, It will ask you again to complete your profile so fill in the missing details.
Step 11: Verify the Details
Now You must have filled in all the details by step 10.
After filling in all the entails click on OK.
Step 12: Click on Book Your Slot
Now you are registered by completing all the steps explained previously.
After that, you can now book your slot for the exam.
Step 13: Chose your preferred slot
By following the previous step you will be redirected to the page shown below:
Now choose your programing language and slot carefully according to your knowledge and preference.
Step 14: Confirm Your Slot
After selecting the slot the screen will pop up as shown below:
Now confirm your language and slot by rechecking after that click on confirm.
Step 15: Successfully Registered
If you have followed all the steps given above properly then the screen will be like this:
Now you have completed the registration for the test so note down the timing of your slot and after that start preparing. This was the last step in the Infosys registration process after this your Infosys registration process is completed.
Frequently Asked Questions
1. How can I register for the advantage round in Infosys?
You have to clear the certification round first after that you can register for the advantage round.
2. Can I directly register for the Infosys Certification test without logging in or registering on InfyTQ?
No, You have to register on InfyTQ first.
3. Mention the Exam pattern for InfyTQ.
It will contain two tests with the name:
Certification Round
Advantage Round
For sitting in Advantage round you have to score 65% or above in the certification round.
4. Is there any benefit if I pass the advantage round?
Based on their performance in the Advantage Round test, any applicant who passes will be given the chance to participate in a pre-replacement interview for either the Specialist Programmer or the Digital Specialist Engineer post.
You will be put through a technical and behavioral skills interview.