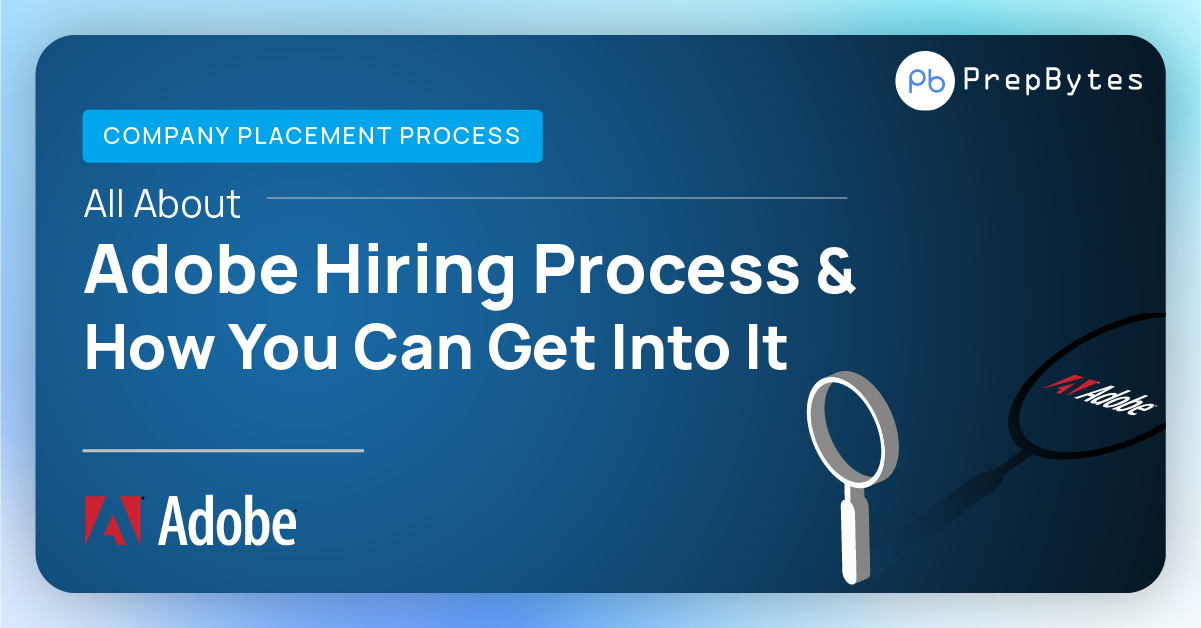 Adobe is a multinational software firm based in the United States. The company's headquarters are located in San Jose, California. Adobe has traditionally specialized in the development of multimedia and creativity tools, with the latest venture into the development of rich Internet application software. Photoshop, an image editing software, Acrobat Reader, the Portable Document Format (PDF), and Adobe Creative Suite, as well as its successor, Adobe Creative Cloud, are among its most well-known products.
Now, given its popularity and all the amazing products that Adobe has to offer, it is only fair that any individual would aspire to work here. Like any other product-based company, Adobe also follows a process that one has to go through to get placed. How does that work? Let's get an idea of the process.
Before that, we are assuming that you are preparing for the interview! Can we suggest a sure-shot way to crack the interview? Of course, it will require a lot of practice. PrepBytes Placement Programs, a personalized program offering you the correctly framed learning material along with highly qualified mentorship,
Ways To Get Into Adobe
Walk-in Drive
Adobe conducts walk-in drives where all the eligible candidates can participate. Needless to say, it seems a difficult competition but if you are the correct fit and have all the skills, there is no way you won't be selected.
Adobe Careers
This is the standard way of applying for any job. Just visit the official website, search for the job profile you are looking for, and apply to that job. If the HR manager considers your profile to be relevant, you will receive an email.
On-campus
If you are studying in a Tier-1 college, then half your battles have already been won. Adobe hires directly from colleges like IIT, NIT considering you have the talent for it.
Referral Program
The preferred procedure of applying would be to find some of your friends already working there and ask them to refer you. They would know what openings are there and would be able to give you an idea of the kind of work you could be getting into.
Eligibility Criteria
BE / B.Tech / ME / M.Tech in any Disciplines.
Students who are secured with 60% and above in their academic profiles in 10th standard, Intermediate, te, and BE/ Btech are eligible.
Candidates should not have any Backlog.
The age limit is 18 to 25 years.
Work experience should not be more than 3 years.
Adobe Hiring Process
Adobe conducts 4-5 rounds to hire the candidates. Let's have a look at what these rounds entail.
Coding + Aptitude Round
The online rounds take place on the Hackerrank platform and go on for about 75 minutes. During the Test, you can edit and resubmit your answers as many times as you want using the HackerRank Test interface. There are 25 questions in this round, 3-4 of which are coding problems, while the rest are aptitude, logical, and technical questions.
To ace the aptitude test, you may want to focus on topics like Profit & Loss, Percentages, Time, Speed & Work, etc. Whereas for technical questions, practicing topics from C++, Java, Python and focusing on questions like finding the output, spotting the error will help you become better.
Pointers, strings, arrays, and recursion will be the focus of the coding questions. These questions can be solved in a variety of programming languages, including C, C++, Java, Python, and others. It is not necessary to work on all of the questions. It's equally important to consider your approach.
Pick a question that you know you can comfortably answer. Choose the best option to increase your score.
Technical Round 1
These rounds are one-on-one interviews in which applicants are asked a variety of questions about DS/Algo, OS, and memory management. To pass this round, you'll need a solid grasp of both academic and practical concepts.
Technical Round 2
More algorithmic problems, such as recursion, graphs, and DP questions, are asked in this round followed by having to solve some puzzles. This round may also include project-related inquiries, as well as questions about the technologies involved with the project. Because the questions can delve deep into technological areas, one should know everything about everything that is mentioned in their CV.
Technical Round 3
This round typically comprises system design questions, as well as theoretical and Why do you want to work at Adobe?
Tell us about yourself
Where do you see yourself in 5 years?
What's your dream company?
Tell us about your family background!
Implementation questions from the operating system and database management system. There are additional medium-difficulty algorithmic and coding questions, as well as conceptual c/c++ questions that you will be required to answer.
HR Round
During the HR round, the interview panel will ask you questions about your persona, family, education, interests, internships, work experience (if applicable), basic information, and other topics. When responding, make sure you are honest and to the point. Don't talk in hushed tones. Give a confident response. The purpose of the HR round is to assess your knowledge, analytical, and communication abilities. The HR interview is used to evaluate your background, personality, strengths, weaknesses, and capacity to handle the role, as well as to see if you're a good fit for the job and the firm. Some questions that you may be asked are:
Give a brief introduction of yourself
What are your strengths and weaknesses
Where do you see yourself in 5 years?
Why did you choose a career in Programming?
What is your dream as a Programmer?
To Conclude…
Adobe is one of the most employee-friendly companies, ranking 21 on the Great Places to Work For list. The company provides excellent benefits and invests heavily in the well-being of its employees. As a result, the organization carefully selects individuals and conducts an extensive screening to guarantee that it obtains the finest employees there are. So, prepare well, focus on DS & Algo, practice a lot and that is how you will easily crack the interview.