Everyone wants to be in a well-reputed company or organization and in India TCS is one of those organizations. Tata Consultancy Services (TCS) is a multinational information technology (IT) services and consulting company that is headquartered in Mumbai, India. It is a subsidiary of the Tata Group, one of India's largest conglomerates. TCS is one of the largest IT services companies in the world, offering a wide range of services including application development, maintenance, and management; infrastructure management; engineering and industrial services; and digital transformation. The company has a global presence in 46 countries, serving clients in various industries including banking and finance, healthcare, manufacturing, retail, and telecommunications. TCS is known for its innovative solutions and commitment to delivering high-quality services to its clients, and it has received numerous awards and recognitions for its work in the IT industry.
About TCS NQT
For recent graduates and students in their last years of study in engineering, science, and the arts, Tata Consultancy Services (TCS) administers the TCS National Qualifier Test (TCS NQT), a national-level aptitude test. The test acts as a preliminary screening procedure for TCS recruiting and is intended to measure participants' aptitude, logical reasoning, and coding abilities.
English, programming principles and aptitude multiple-choice questions make up the TCS NQT, which is administered online. The test typically lasts about two hours, and the findings are made public within a few days.
The top-performing applicants are asked to participate in further stages of the TCS hiring process, which generally comprise a technical interview and a personal interview, based on their performance in the TCS NQT.
Students and recent graduates could take advantage of the TCS NQT, one of the biggest IT services firms in the world, to display their abilities and be recognised.
Anyone wishing to launch their career in the IT sector must pass the TCS NQT in order to access interesting employment prospects and a lucrative career path with TCS. It is advised that candidates take the test seriously by practising aptitude questions, working through coding issues, and honing their English language abilities.
TCS NQT Recruitment Process
Below if the image representation of all the rounds of TCS NQT.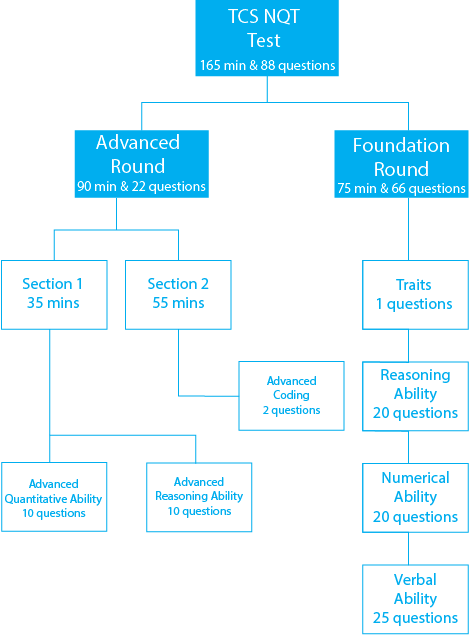 By explaining combined there will be two main rounds known as the foundation round and advanced round and one has to clear both the orunds to be able to get a good job at TCS the scores of these tests will help the candidate to get a job according to his skills and requirements.
The foundation test will contain questions based on reasoning, verbal ability, traits, and numerical ability.
The advanced round contains all the topics on an advanced level like coding tests, quantitative ability tests, and reasoning ability tests.
TCS NQT Eligibility Criteria
There is no point if you have the required or better skillset than mentioned if you haven't met the required TCS NQT Eligibility Criteria. There are certain TCS NQT Eligibility criteria that are mentioned by TCS regarding various factors such as age, educational qualifications, etc. We will discuss all of them in detail while moving further in this blog.
TCS has released the eligibility criteria for the 2023 exams and failing any of them will lead to disqualifications.
The organizing authority has announced the required educational background, maximum age, and other eligibility requirements for the TCS NQT Exam 2023.
The selection processes will only be open to applicants who meet the TCS NQT Eligibility requirements.
Candidates must be familiar with the TCS NQT Syllabus 2023 and TCS NQT Exam Pattern 2023 in addition to the eligibility requirements to apply, in order to properly prepare for the exam.
TCS NQT Eligibility Criteria: Overview
In this section, we will show the overview of TCS NQT Eligibility criteria.
| Qualifications | B.E / B.Tech / M.E / M.Tech / M.Sc / MCA – 2023 Year of Pass-out. |
| --- | --- |
| Backlog Criteria | Only 1 active backlog is allowed |
| Eligibility Streams from M.Sc | All the streams related to information technology and computer science. |
| Gap Criteria | The total gap in an academic career should be less than or equal to 2 years |
| Percentage Criteria | 60 % or above in X/XII/ all other degrees. |
TCS NQT Eligibility Criteria: For BE/B. Tech/ M.E./M. Tech
We will discuss the eligibility criteria for the above-mentioned courses.
Almost all the branches are eligible but CS/IT is preferred.
Should have more than 60% in Xth standard.
Should have more than 60% in the XIIth standard.
More than 6 CGPA or 60 % in graduation.
If you have any certification in any programming language that will be a plus point.
Only 1 active backlog but try to avoid any backlog.
TCS NQT Eligibility Criteria: Age, Qualifications, Course
In this section, we will discuss the eligibility criteria of various factors.
Age: In the TCS NQT exam of 2023 the candidate who is applying should be atleast 18 years old and the maximum age should be of 28 years.
Number of Attempts: As such, there is no limit on the number of attempts of a candidate unless he is within the required age limit.
Experience: Freshers who have less than two years o experience can apply to TCS NQT.
TCS NQT Eligibility Criteria: Important Points
Here are some of the important points you should keep in mind.
All applicants must have their original papers on hand for the interview process in case they are required to present them, including proof of age, education, nationality, etc.
Candidates who have academic gaps of more than 2 years are not eligible to apply for admission. Regarding this topic, there is no leeway given.
FAQs Related to Eligibility Criteria of TCS NQT Exam
1. Can the students apply to other companies with their NQT scores?
Yes they can apply to other companies that accept NQT scores but for confirmation, they have to give their registration number in the application for the job.
2. Where can the candidates see the list of the companies that accept NQT scores?
They can check on TCS's official website for the list of companies that accept the TCS NQT Score.
3. How many total rounds are there in the selection round of TCS NQT?
There are total four rounds, one is an online round, and the rest three interview.
4. How frequently does TCS change its selection criteria?
They are very dynamic they change the selection process almost every year.