Last Updated on June 13, 2023 by Abhishek Sharma
TCS has played a crucial role in propelling the expansion of India's IT sector and has emerged as a dominant force in the global market. The company's unwavering commitment to innovation and its ability to offer exceptional services have established it as a trusted partner for numerous major corporations worldwide. TCS has a noteworthy track record of successfully executing intricate projects, positioning itself as the preferred choice for businesses seeking dependable IT solutions. Given these remarkable attributes, a significant number of undergraduate students opt for TCS as their first employment opportunity. TCS recruits fresh graduates based on their performance in the TCS National Qualifier Test (NQT), which serves as a gateway to understand what TCS NQT entails.
About TCS NQT
Tata Consultancy Services National Qualifier Test (TCS NQT) is a nationwide recruitment drive conducted by TCS for fresh graduates and postgraduates in India. The purpose of the NQT is to identify and select talented individuals who have the potential to become the next generation of technology leaders. The TCS NQT is a multi-stage selection process that includes online aptitude tests, coding assessments, and technical and HR interviews.
The online aptitude tests assess the candidates' logical reasoning, quantitative ability, and English language skills. The coding assessments are designed to test the candidates' coding abilities and their understanding of core programming concepts. The technical and HR interviews are aimed at evaluating the candidates' technical knowledge, communication skills, and overall personality.
Before going to the TCS NQT Registration Process, let's first check the eligibility criteria for the same.
Eligibility Criteria for TCS NQT
The eligibility criteria for TCS National Qualifier Test (NQT) are as follows:
Educational Qualification: The candidate must have a minimum of a bachelor's degree in any discipline from a recognized university. Postgraduate candidates are also eligible to apply for the TCS NQT.
Percentage Criteria: The candidate must have a minimum aggregate of 60% in their highest degree. For SC/ST candidates, the minimum aggregate is 55%.
Professional Experience: Only Candidates with less than 2 years of experience are allowed
Age limit: Freshers of minimum 17 years and maximum 30 years of age can apply.
Steps for TCS NQT Registration Process
So, you fit well the eligibility Criteria, following is the TCS NQT Registration Process in a stepwise manner:
Step 1: How to Apply in TCS NQT
First, go to the Official Website of TCS NQT using the link.
The page will look like the image shown above. Click on the Register Now.
Step 2: Select the Category in which you want to take TCS NQT
Step 1 will take you to the slide shown below.
Now you have two options on the screen namely, IT (Information Technology) and BPS (Business Process Service). You must choose IT.
Step 3: Enter Personal Details
After registering the account, you will be redirected to this page to fill out the required details.
Fill out your personal details precisely including your Full Name, DOB, Gender, and personal E-mail ID.
Step 4: Fill up your Educational Details
After personal details, you are required to enter the name of your Educational Institute, Qualification, and Passing Year.
Don't forget to enter the Test Center which is nearest to your Location.
Step 5: Answer some of the Security Questions
Now, just answer some of the Security Questions.
Step 6: Confirm your Details
After Security Questions, just confirm your details.
Step 7: Make a note of your Application ID.
List down the Application ID shown on your screen. This is the ID you have to use to sign in to the portal in the future.
Step 8: Sign In using the Application ID.
After receiving the reference number, you may proceed to fill out the application form by logging in.
Step 9: Start filling in your "Personal Details"
Fill out all of the required information in the personal details section. Once the information is entered, you may proceed by clicking save and continue. Fill in all details correctly.
Step 10: Academic and Work Experience Details
After filling in the personal details, you are now required to enter the Educational Details in this section. Fill out all of the required information.
If you have completed any additional courses, please include them in the "Any Other Qualification" area. If you have any work experience, please describe it.
After entering details, click "Save and Continue".
Step 11: Enter "Other Details"
This section requires the following details:
Nationality
Languages Known
Your Achievements, Scholarships, or certificates, if any.
CV
Photograph.
After uploading the CV and Photograph, Click on "Save and Continue".
Step 12: Preview the Application Form
This is the final step. You need to preview the Application Form in this section by clicking on "Application Form preview".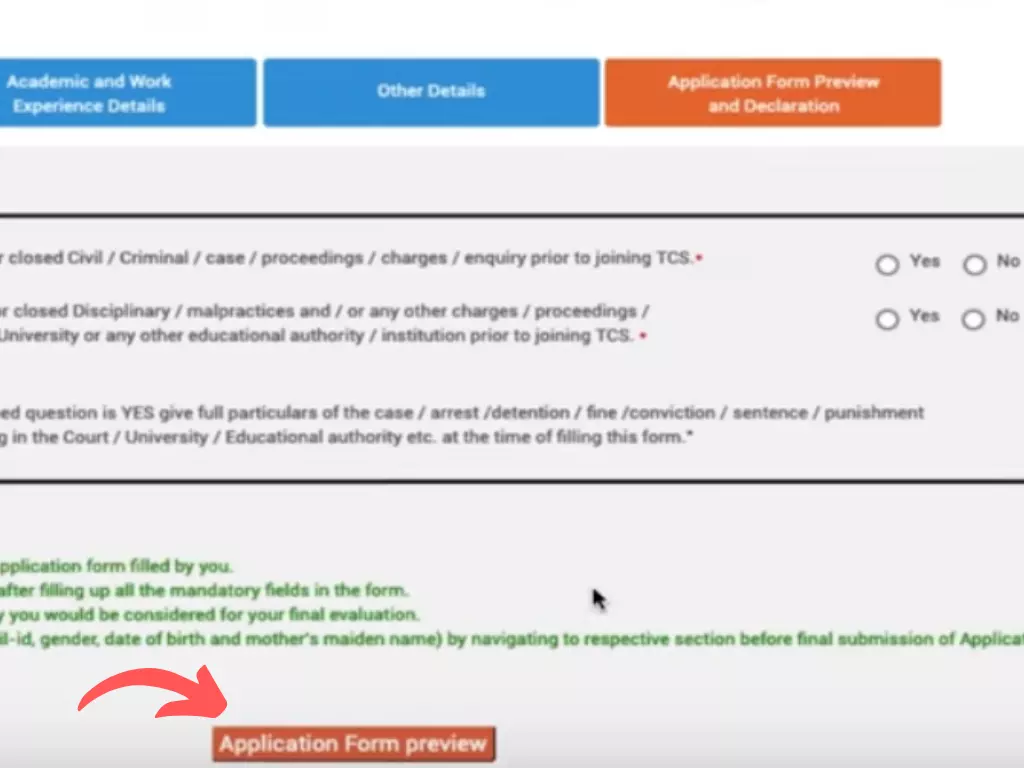 You must fill in the "Declaration" in this section to complete your application.
Step 13: "Apply for TCS Recruitment Drive" Page
You can choose the mode of your test in this section. If you want to take the test from home, select "Remote". If you want to take the exam at a TCS-designated location, select "In-Center".
Step 14: Confirmation Mail
After successful completion of the application process, you will receive a Confirmation Mail on the E-Mail ID submitted during the TCS NQT Registration Process.
Frequently Asked Questions (FAQs)
Here are some Frequently Asked Questions on TCS NQT Registration Process.
Q1. Can I apply if I have Backlog?
Ans. At present, TCS allows candidates with a maximum of 1 Backlog at the time of registration.
Q2. Which category should I choose, IT or BPS?
Ans. You are required to select the IT category only.
Q3. Are there any limitations on the number of attempts a candidate can take?
Ans. There is no such limitation on a candidate, according to the TCS NQT rules. There is an age limit, and applicants can apply as many times as they wish as long as they do not exceed that limit.
Q4. Can I make certain changes in my details as I have committed some mistakes while registering?
Ans. Only minor changes may be made after the profile is in the Application Received / Applied for Drive state. So, we ask you to fill out the application form carefully.