TCS is considered one of the leading IT services companies in the world, with a long history of success and a commitment to innovation and customer satisfaction.TCS has a strong reputation for delivering high-quality IT services and solutions and is known for its expertise in areas such as artificial intelligence, cloud computing, cybersecurity, and digital solutions. The company has a large and diverse workforce, with over 450,000 employees located in offices worldwide.
About TCS NQT
As we know company provides a wide range of IT services and solutions to its clients, including software development, digital transformation, consulting, and business process services. TCS operates in over 50 countries, serving clients in various industries, such as banking and financial services, healthcare, manufacturing, retail, and more. The TCS National Qualifier Test (NQT) is the recruitment process for Tata Consultancy Services, one of the largest information technology (IT) services companies in the world. The TCS NQT is a pre-employment assessment that helps the company evaluate the skills and abilities of potential candidates.
The TCS NQT is designed to be a comprehensive evaluation of the candidate's skills and abilities and is an important part of the company's recruitment process. Candidates who are successful in the TCS NQT may be offered employment with the company, subject to the terms and conditions of the offer letter.
TCS NQT Recruitment Process
The TCS NQT hiring process typically consists of the following stages:
Online Application: The first step in the TCS NQT hiring process is to submit an online application through the TCS career website. You will be required to provide your personal, educational, and work experience details.
Online Written Test: If your application is shortlisted, you will be invited to take an online Written test. This test assesses your skills in areas such as numerical ability, verbal ability, and reasoning basically test your aptitude.
Technical Interview: If you perform well in the aptitude test, you will be called for a technical interview. In this round, you will be asked technical questions related to your area of expertise and general IT knowledge.
HR Interview: The final stage of the TCS NQT hiring process is an HR interview. In this round, the interviewer will assess your communication skills, motivation, and overall suitability for the role.
Offer Letter: If you are successful in all the rounds, TCS will issue an offer letter detailing the terms and conditions of your employment.
Note: The TCS NQT hiring process may vary slightly depending on the location and the type of role you are applying for. Additionally, TCS may also conduct additional
Written Test
This is the first step or phase of the entire TCS NQT Hiring Procedure because the company's main goal in this round is to assess the student's aptitude as well as coding knowledge.
TCS NQT Written Round was updated this year(2023), and there will be two rounds.
Part A (Foundation Section for Ninja Profile)
It consists of questions on reasoning ability, numerical ability, and verbal ability
Part B (Advanced Section for Digital profile)
It requires advanced reasoning ability and advanced coding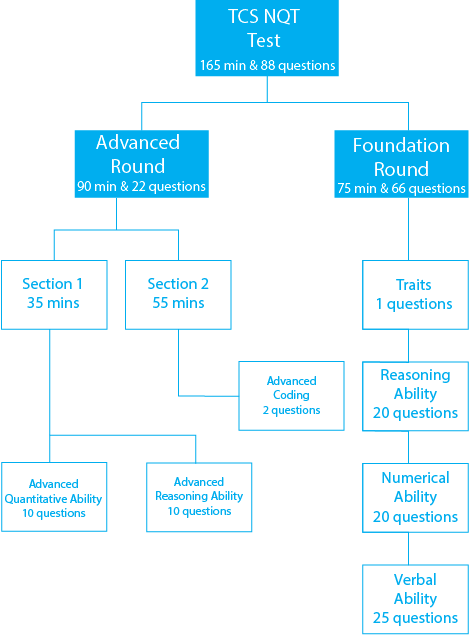 Technical Interview
This is the most difficult stage of the hiring process, so prepare as thoroughly as possible.
The focus of the interview will be on your technical knowledge, biography, and main project.
There's a good chance you'll be assigned to write some code.
Visit the PrepBytes youtube channel to learn more about Interview Experience.
You must include all of the elements listed in your resume because omitting any of them will harm your resume.
HR Round
This is the simplest round, here interviewer checks your communication skill, your confidence, and leadership quality .in this round interviewer describes the job profile, and job salary.
TCS NQT Eligible Criteria
The eligibility criteria for TCS NQT are as follows:
Education: You should have completed a full-time B.E./B.Tech/MCA/M.Sc. degree in the relevant stream from a recognized university.
Percentage: You should have a minimum of 60% aggregate marks in your highest degree.
Education Gap: Gap of 24 months is allowed.
Backlogs: You should not have more than 1 active backlog at the time of appearing for TCS NQT.
Note: These eligibility criteria are subject to change and you are advised to check the latest information on the TCS website or with the TCS recruitment team.
FAQs Related to Hiring Process of TCS NQT Exam
Here are some frequently asked questions (FAQs) about TCS NQT:
Question 1) What is TCS NQT?
Answer: TCS NQT (National Qualifier Test) is a recruitment process conducted by Tata Consultancy Services (TCS) to hire entry-level engineers.
Question 2) Is TCS NQT only for freshers?
Answer: Yes, TCS NQT is primarily for freshers who have recently completed their education and are seeking their first job.
Question 3) How can I apply for TCS NQT?
Answer: You can apply for TCS NQT by visiting the TCS career website and submitting your resume and other relevant information. TCS will then shortlist eligible candidates and invite them to appear for the TCS NQT.
Question 4) Is TCS NQT a campus recruitment process?
Answer: TCS NQT is not restricted to campus recruitment and is open to all eligible candidates, regardless of whether they are from campus or not.
Question 5) What is the bond period for TCS NQT?
Answer: The bond period for TCS NQT is 3 years.
Question 6) What are the job opportunities after TCS NQT?
Answer: Successful candidates of TCS NQT can expect to be hired as software engineers in TCS and work on various software development and IT projects.