Last Updated on November 16, 2022 by Prepbytes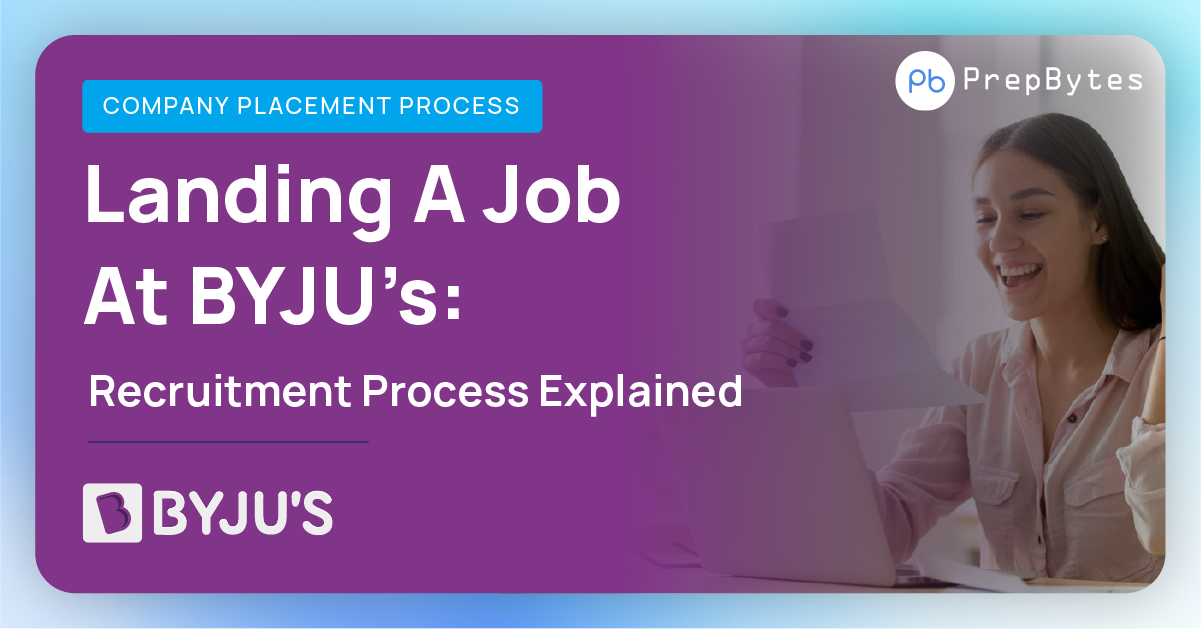 This blog taught you the Byju's recruitment process, Who hasn't heard of BYJU's? Their teaching style with movie-like visuals results in a higher attention span and makes it super fun for students to learn. That's why more than 75 Million users are there on BYJU'S.
Let's not forget that there are games and quizzes that provide a lot of interaction. And this we're talking about is a learning app. The platform makes it an awesome experience for students to learn so who wouldn't want to come back to such a place?! More importantly, who would not want to work at such an awesome place?! Let's understand how actually byju's recruitment process takes place.
About BYJU's
BYJU is an Indian multinational educational technology company, headquartered in Bangalore. It was founded in 2011 by BYJU Raveendran and Divya Gokulnath. It offers highly adaptive, engaging, and effective learning programs for students in LKG, UKG, classes 1 -12 (K-12), and competitive exams like JEE, NEET, and IAS.
There is considerably more to learn in today's competitive environment, resulting in numerous learning apps. When it comes to Byju's, it has quickly become one of the most popular learning apps for people of all ages. Whether you're in high school or college, it covers all of the topics related to various fields.
If you have read up till now, we are assuming that you are pretty interested in working at BYJU's and why shouldn't you? With so much to offer, who would want to miss out on the unlimited learning opportunities?!
So, are you an aspiring software developer? We have made things easier for you! Let's have a look at what BYJU's Recruitment Process entails for a Software Development Profile.
Eligibility Criteria Needed For Software Development Role
60% or above in B.Tech, (B.E.), Class X and XII.
Any Graduate in the BE/Btech/MBA.
There must be no backlogs at the time of the interview.
Do you stand eligible for appearing in the interview? Let's move ahead then!
BYJU'S Recruitment Process
The selection in byju's recruitment process consists of following steps:
BYJU conducts around 3-4 interview rounds to finally select the candidate for a software development profile.
Byju's Recruitment Process – Group Discussion
The shortlisted applicants must participate in a group discussion. Its goal is to assess confidence, ability, vocational abilities, and cognitive foresight.
HR may propose a topic of social, national, or global relevance, as well as a current event and you have to discuss it.
Some helpful GD tips are:
Maintain decorum and give others the chance to speak.
Be clear and aloud while putting your point forward.
Be a good listener.
Stay confident and professional at all times.
Below are the topics that previous candidates faced and you can work around too:
Marketing vs Manufacturing
Is FDI beneficial for India?
Are Indians confused or confident?
Tiger conservation in India
Women empowerment, child labor, dowry system
Byju's Recruitment Process – Technical Round
In this round, you'll be given questions regarding certain technical topics. Questions may be based on particular knowledge of the company's technical operations; comprehension of the technical work that must be done as part of the job application; or asking applicants to solve real technical problems that they would be likely to confront if hired.
Some questions may look like this:
What is Artificial Intelligence?
Do you have any idea why programming languages exist?
What is the full form of SDLC?
Name some popular operating systems.
Keep practicing technical questions and qestions that have been asked in interviews before. Practice important questions here!
Byju's Recruitment Process – HR Round
The HR interview is the final step in selecting a candidate for a job since it helps to assess an applicant's personality. Self-introduction, qualification, experience, courses taken, experience in a certain field, strengths and weaknesses, wage expectations, family, friends, and so on are examples of possible questions.
Tell us about yourself.
What do you know about BYJU's & why do you want to work here?
What do you mean by Software Developer?
What according to you are the skills required for this profile?
How do you take criticism?
To crack the HR round, you need to up your communication skills and stay confident at all times.
Summing Up…
In the end, it won't be tough to crack the interview at BYJU if you are well-prepared and in touch with your fundamental concepts. So, bring out your notes and start preparing to win the battle. Below are some tips you can incorporate to crack an interview at BYJU:
Make an effort to be creative with your responses.
Take the opportunity to be more expressive.
Instead of lengthy explanations, provide a concise response.
Dress appropriately and stay confident.
Byju's Recruitment Process FAQs
1. How do I apply for the Byju's recruitment drive?
Candidates must visit the official website at byjus.com www.byjus.com to apply for the BYJUS Recruitment
2. How many vacancies are available for Byju's recruitment?
There are numerous opening in this position.
3. How many rounds are there in byju's recruitment process?
Generally there are 3-4 rounds in byju's recruitment process i.e. Written test, group discussion, Technical Interview, HR round.
4. What are the eligibility criteria for byju's recruitment process?
The candidate must be an Indian citizen with a bachelor's degree from a recognized college or university.
In this blog, we have discussed the Byju's Recruitment Process. Byju's is a learning app. It is bangalore based online tutoring and educational technology fir. Want to make sure you ace the interview in one go? Enroll in PrepBytes Placement Programs to achieve the maximum results. What are you waiting for? Go on, take that first step.